Main image
Click to view image in fullscreen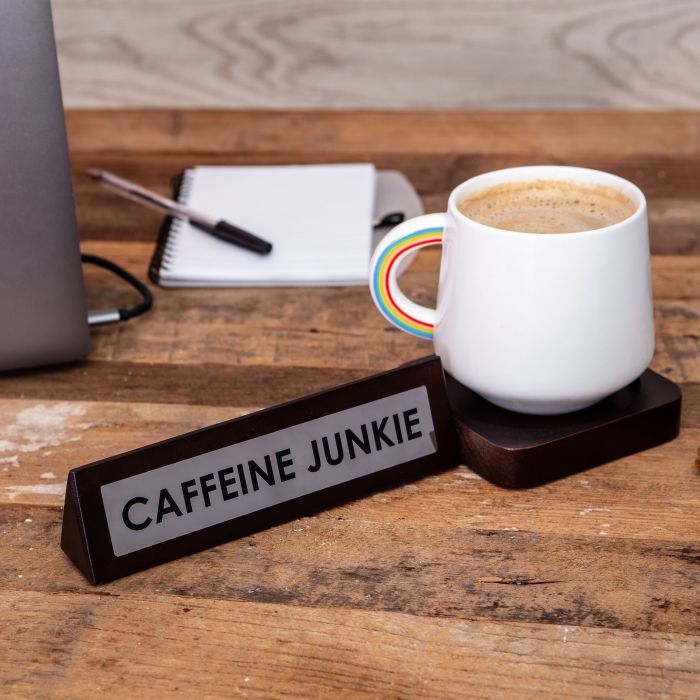 Wooden Desk Sign - Caffeine Junkie
Wooden Desk Sign - Caffeine Junkie is available to buy in increments of 12
Bit of a monster before your morning caffeine hit? Perhaps your colleague is constantly clutching a steaming mug of coffee? A hilarious new addition to our best-selling desk-sign range, our 'Caffeine Junkie' wooden desk sign is the must-have desk accessory for loud and proud coffee (and tea) lovers! Complete with a unique coaster attached to the sign, you will always have somewhere to put your mug! Look no further for the perfect fun novelty gift for colleagues!
WAKE UP AND SMELL THE COFFEE - Our awesome new 'Caffeine Junkie' wooden desk sign is the perfect desk accessory for caffeine lovers, and even features a built-in coaster to keep your desk organised!
LOOK SLEEK WITH EVERY SIP - Featuring a quality metal plaque and slogan, and coated in a gorgeous black paint, this unisex gift is sure to add some stylish design to any desk!
FEEL THE BUZZ - Whether it's a cup of tea, coffee, or even a glass of energy drink, our new Wooden Desk Sign is perfect for 'Caffeine Junkies' everywhere!
GREAT GIFT FOR COLLEAGUES - Our hilarious wooden desk signs make the perfect novelty gift for friends and colleagues, great for secret Santa!
Depth : 28.00 cm
Height : 4.50 cm
Width : 10.00 cm