Trade Account Requests
Please complete the details below and press Sign Me Up!
Got a General Enquiry?
Here at Boxer we would love to hear from you! To get in touch you can contact us by email, phone or snail mail. Alternatively, send us an enquiry using our form to the right of the page.
The Headquarters of Fun:
Boxer Gifts
Swinnow Lane
Leeds
West Yorkshire
LS13 4BS
United Kingdom
Phone:
01133 955 595
Emails:
sales@boxergifts.com: Orders / Stock / Delivery queries / Product refreshes / Login issues
accounts@boxergifts.com: Customer payment queries / copy invoices / statements
PLinvoices@boxergifts.com: Bills / Purchase statements
Want a Catalogue?
Want to check out our very own bible of fun? Whether you'd like a physical copy, an online copy or both, simply fill out the form and we'll send you one as fast as you can shout Slay the Mundane!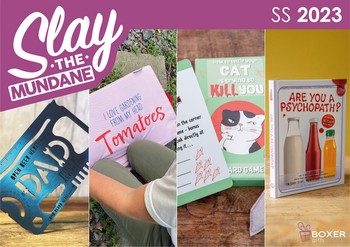 ---
Our company registration name is Scobie (Llarn) Ltd T/A Boxer Gifts and we are registered in England and Wales with company number 1786920.
Our registered office is Swinnow Lane, Bramley, Leeds, LS13 4BS and this is where we trade from.
If you wish to contact us you may do so via phone 01133 955 595 email sales@boxergifts.com or write to us at the above mentioned address.