Main image
Click to view image in fullscreen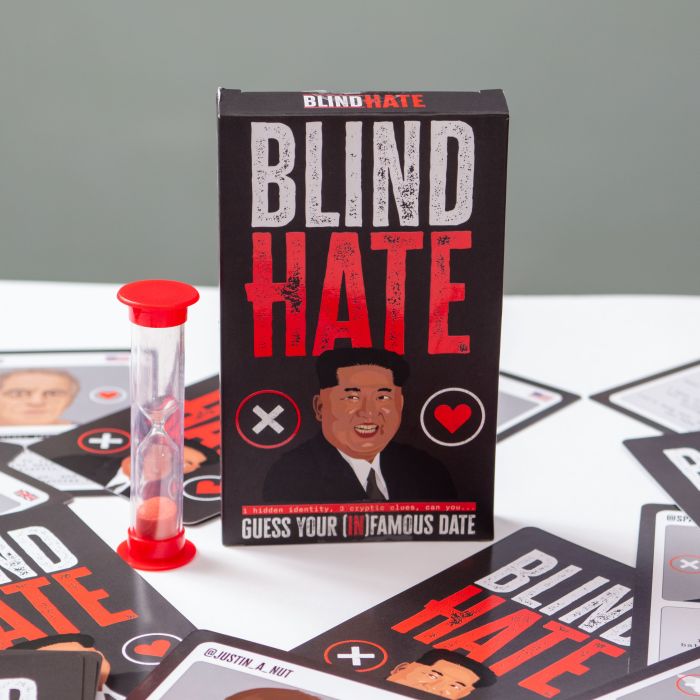 Blind Hate Game
Blind Hate Game is available to buy in increments of 12
Swipe left or swipe right? That is the question in this hilarious Blind Hate adult blind dating card game! Read through the dating profiles to unscramble who is the (in)famous face behind the account! From secret Hitler to bashful Putin, regretful Woody Allen to passionate Simon Cowell, these prominent figures in history have all been unlucky in love and want to find that special someone, but can you identify them to see if they deserve a second shot?

Filled with 52 hilarious profiles, you should read between the lines and discover the figure behind the profile in this hilarious adult game! Perfect as a fun stocking filler gift for friends, hen party or stag do games, or providing card games and party games for adults for an un-wholesome games night, can you find the humanity against the odds in these fun blind date dating flash cards?

GET HATEFUL - Blind Hate is the hilarious card game for adults, forcing you to swipe and guess your way through 52 of the dating profiles of some of history's most infamous characters!
SWIPE RIGHT - See if you can strike a good match in this fun party card game by guessing which character is behind the dating account by just reading the profile, before the 30 second timer runs out!
FUN GIFT FOR FRIENDS - If you want adult party games for hen parties or stag dos, Blind Hate is an NSFW birthday or Christmas gift for friends and family who love inappropriate gifts!
INFAMOUS FACES - From Donald Trump to Kim Jong Un, Blind Hate is filled with the profiles of both famous and infamous faces who seem to be against humanity in history, but are they just misunderstood?
OPEN YOUR HEART - Bundle your emotions together and find the perfect match for these misunderstood characters in this hilarious nsfw adult card game - everyone deserves a shot at love!
Depth : 8.80 cm
Height : 14.40 cm
Width : 2.00 cm