Main image
Click to view image in fullscreen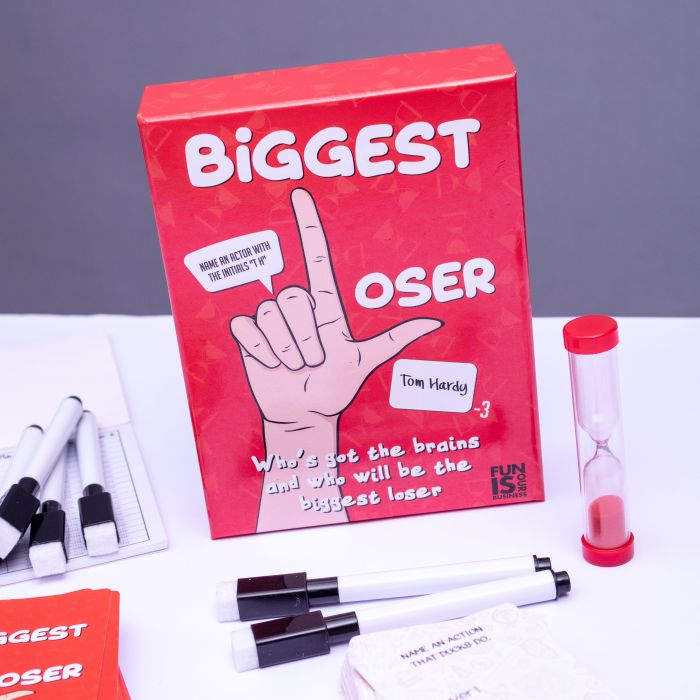 Biggest Loser
Biggest Loser is available to buy in increments of 6
Being a loser has never felt so good! Answer questions with the most obvious answer to lose the most points and race to zero to get the title of the biggest loser, and win!
LETTING LOSERS SHINE! - Take turns answering questions with the most obvious answer to lose points the fastest! Be the first to get to zero to be the biggest loser and win!
THE FULL PACKAGE - This game contains 6 x Whiteboard Cards, 6 x Whiteboard Markers, 1 x Scoring Notepad and 108 Playing Cards, so it has everything to make a great game on the go!
AWESOME TWIST - 'Biggest Loser' is a fun and unique take on the classic pointless quiz concept, as people are competing to lose all of their points! With 108 playing cards, gameplay can be played over and over for non-stop fun!
GREAT GIFT FOR FAMILIES - This game is easy to play yet loads of fun, making it the perfect game for family game nights or at parties with friends!
Depth : 17.00 cm
Height : 5.00 cm
Width : 12.00 cm